The origin of the Maltese 'Tal-Lira' clock is clouded by many stories of popular folk, with varying versions as colourful as the clocks. But what is certain is that they have become highly sought after, both by local and foreign collectors of antiques.
The Maltese clock has, for centuries, embellished the walls of aristocratic halls and courts, and even found itself in various famous depictions of Antoine Favray's 18th-century exquisite interiors of noble Maltese households.
Through the years, ReCoop, a restoration and conservation cooperative, has worked on many prime examples of Maltese clocks of superb quality, boasting rich craftsmanship and skill.
However, a recent project did stand out from the rest, notes ReCoop conservator director Roderick Abela. It was a black 'Tal-Lira' clock, adorned with shellacked, silver guilt floral motifs bearing the coat of arms of Grandmaster Marc'Antonio Zondadari,
A white ribbon sash, bearing the inscription "Presa del Sole d'Oro d'Algeri fatta nel coman.da del N.S.G. Anno 1721", meanders its way around Zondadari's coat of arms. But what does this inscription mean exactly?
On April 20, 1721, a brave commander by the name of Fra Adriano de Langon went on to capture an Algerian vessel called the Sole d'Oro, just off the coast of Oran, in Algeria.
Chroniclers recount an hour-long naval confrontation between de Langon's crew and the Algerian vessel, when eventually the latter gave in.
A romanticised painting of the intense battle between the vessels can be seen depicted on the face of the clock's central dial.
De Langon became a distinguished commander within the Order and continued to achieve other successful naval victories, which went on to become among the Order's most notable.
It is highly probable that this particular Maltese 'Tal-Lira' clock served as a memento of de Langon's naval triumph and, perhaps, it could have adorned the walls of one of the protagonists responsible for the capture of the legendary Sole D'Oro.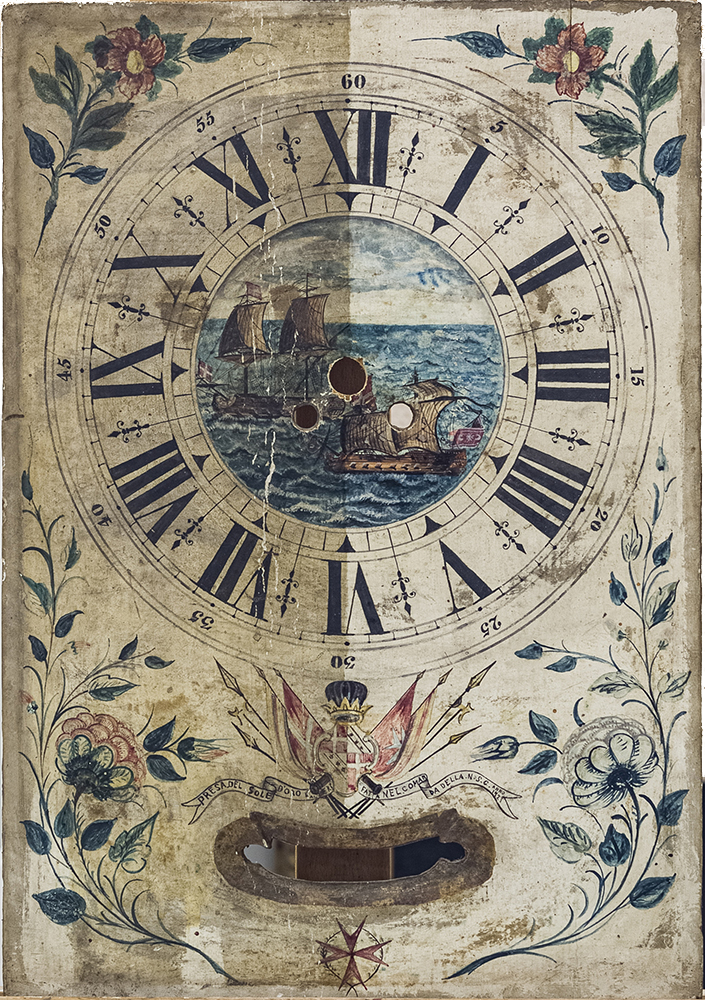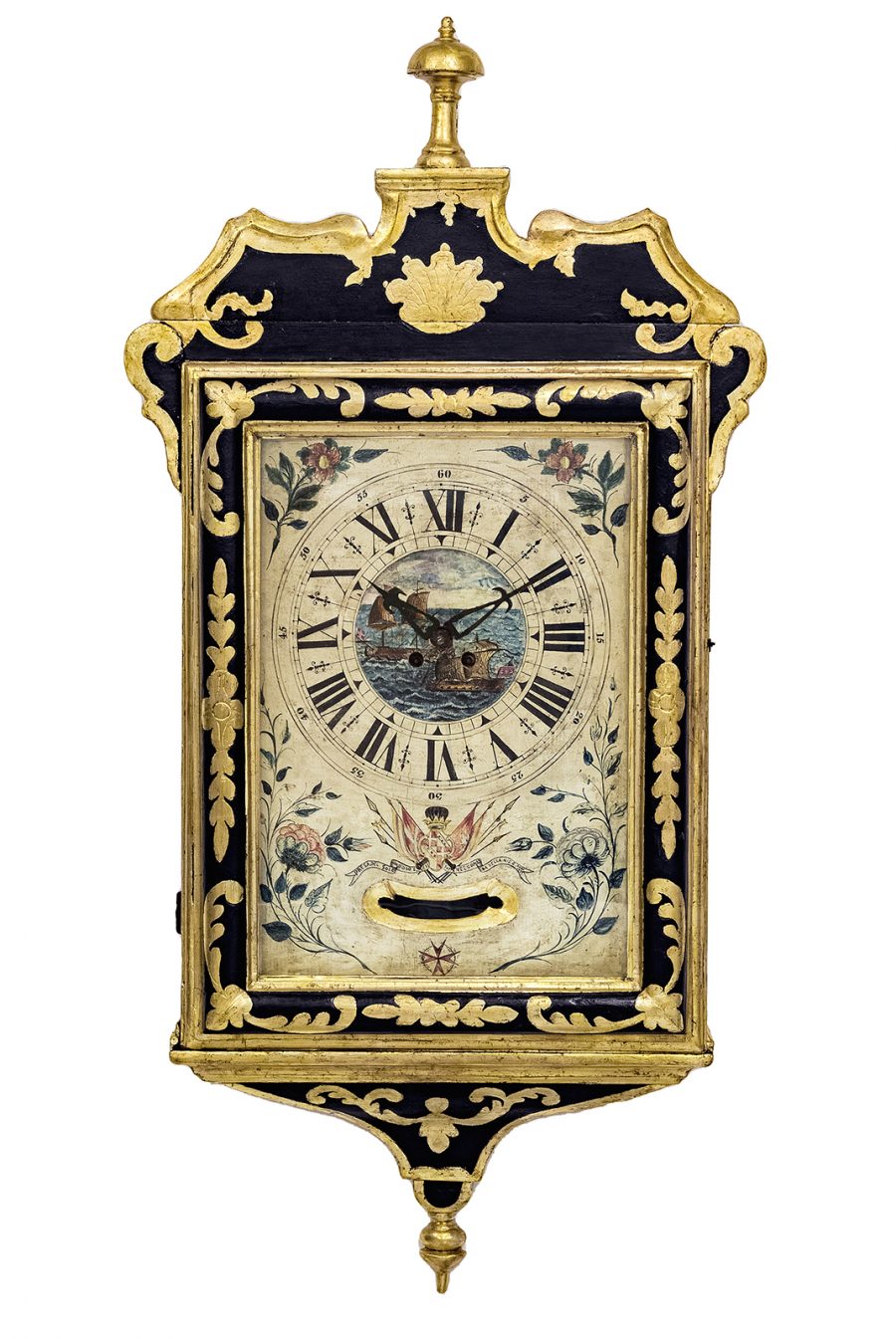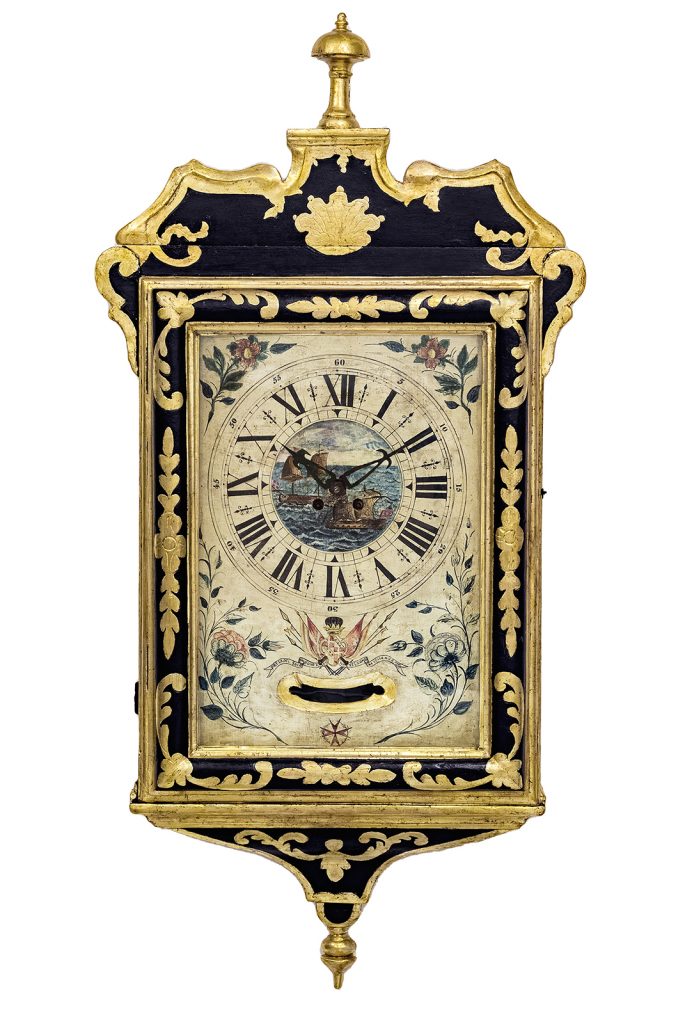 Conservation and restoration process
The Maltese clock came into Recoop's lab in a relatively good condition. However, it had an extensive layer of grime and dirt. Some guilt areas also presented abrasions that had to be dealt with.
As per normal praxis, the object was documented through the use of photographic multispectral imaging. This type of documentation is done to determine the presence of varnish or over-paintings.
Following the photographic documentation, the cleaning phase of the clock could commence. The face of the clock, as well as the overall frame, had its over-paintings and grime removed by using an adequate solvent blend, which led to the uncovering of the object's original chromatic hues.
Any colour losses were integrated using reversible colours, and areas which lacked the presence of silver gilding were re-gilt.