One day in 2006, Sarah Jayne Portelli, whose Maltese parents migrated to Australia in their youth, got a phone call that changed the course of her working life. "At the time, I worked in a supermarket in Melbourne and the person on the phone told me they had heard I was a 'great director'," the young film director and producer recalls. "I have no clue where they got that idea, but that phone call led to the start of a decade of me working in film. It was on a voluntary basis and in set building and production design, not the area I wanted to work in, but I loved it as I've always been very good at visualising things and at building stuff."
Working in the art department might not have been Sarah Jayne's job of choice, but it offered her a unique opportunity to learn about the industry she loved. The 10 year apprenticeship led to her first foray into directing when, in 2013, she directed Dusk, a short film she had also written. The film was produced by Malta-based company Nexus Production Group, which she had joined two years previously. Dusk was soon followed by Anniversary and Daughter, the latter a winner of multiple awards.
Since then, Sarah Jayne has produced and directed several other films, the latest of which is Cats of Malta, the first feature-length documentary she directed on her own. "When my husband and I moved to Malta, we walked everywhere because we didn't have a car, and we started noticing cats everywhere," she shares. "We also noticed that there were communities of people feeding them in the morning. This was about the time we had got a second camera and were planning to shoot a film on the island, but we had to shelve that project when Covid hit. So we started going to Independence Gardens in Sliema and followed around the cats that live there."
At the time, Sarah Jayne was working in insurance and one day came across an Instagram photo of the artist Matthew Pandolfino painting the giant cat statue that towers over Independence Gardens. "That photo got me wondering whether Matthew had a connection to cats, so I went to speak to him several times, even taking time off work to do so. My colleagues must have thought I was crazy!" she laughs. "But I was intrigued. I was also inspired by the Turkish documentary Kedi, which is more focussed on the personalities of the cats featured in the film. In Cats of Malta we focussed on the connection between cats and humans."
In her film, Sarah Jayne strives to uncover how cats communicate with humans and what cats give back to the community. One particular question that Sarah Jayne tried to answer was where all the stray cats in Malta came from. "I kept asking people, but nobody knew," she says. "I was told they probably used to belong to farmers who would keep them to keep their farm and fields free of mice. Some might have let them go when they no longer needed them, or the cats might have ended up on the streets after the farmers passed away. Then, of course, they multiplied and they still are. I now know that many volunteers help with the neutering of stray cats, and so does the government in Malta."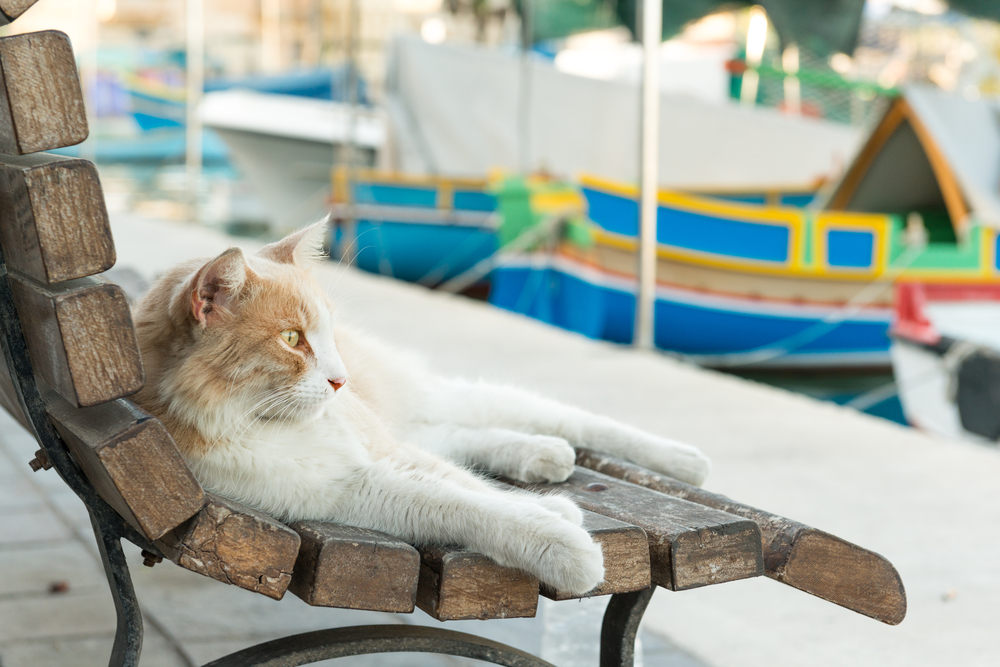 Although the film's title refers to the feline protagonists, Cats of Malta also showcases the many volunteers and cat lovers who care for them and who made this film possible. Sarah Jayne fondly recalls, among others, Isaac Muscat who was only 13 and the youngest cat feeder at the time of filming. She also mentions Roza Zammit Salinos, who has long been synonymous with the cats on the university campus and with the St Julians cat village which is, sadly, no more. "There are the cats and the volunteers at the Cat Cafe, which offers cat therapy for patients of St Vincent de Paul Hospital and other elderly people," she smiles. "And I should also mention the people who donated to our Kickstarter campaign. It is thanks to the €20,000 they donated that we could finance the post-production like colour grading, sound and so on."
Sarah Jayne admits that she was never a cat person, having had dogs as pets all her life. "I have to say that making this film changed my mind about cats and now consider myself a cat convert," she smiles. In fact, last Christmas she and her husband adopted a playful kitten they named Fičo. "We are now based in Croatia and Fičo is what they call the old small Fiats here, which is where he was found and rescued," she explains.
Apart from exploring the connection between man and cat, Sarah Jayne hopes that this film will prove that cats are far from boring. "They are very social animals and are very perceptive. They just know when something is not right. Our cat helped me through a grieving process, and I saw it happen with a close friend of mine too," she shares. "The film has had very positive reviews so far, with people telling us they loved the different characters, both human and feline."
Cats of Malta is a feel-good film that will delight cat lovers and might also create a few more cat converts. Best of all, it shines a light on the selfless volunteers who silently dedicate their time and energy to keeping the cat colonies on the island happy and healthy.
Cats of Malta is now available to stream on Apple TV and Amazon. Anyone interested in booking a screening for their community, school or company can contact the filmmakers on nexusproductiongroup@gmail.com.