When Justine Pergola found herself at the helm of Palazzo Parisio on the sudden passing of her mother, she buried her sorrow by diving into running the 19th-century Naxxar palace and one of her first missions was the refurbishment of its restaurant.
Relaxing into the recently upholstered armchairs at Luna's entrance, hair pulled back in a ponytail, revealing an acqua e sapone face, and sporting athleisure wear, Justine is a breath of fresh air that breezes through the heritage home.
She is not expecting to be photographed, but is not put off by her casual look, making it a point to highlight that she has shed the importance once given to these things, embracing a more nonchalant air that may have been softly stifled in the past.
And this approach to life is reflected in the ethos of the palazzo as well as in its interior design.
Justine makes no bones about the fact that her vision for this space may be different from that of her beloved but 'domineering' mother, Baroness Christiane Ramsay Scicluna, in whose shadows she worked until a year-and-a-half ago.
She admits she is now able to freely express herself and her creative input in her new role.
This is perhaps most evident in Luna Restaurant – a project that had her mother's blessing even though it totally veered off from her original style, being a far cry from the previous pretty, soft and very pink décor.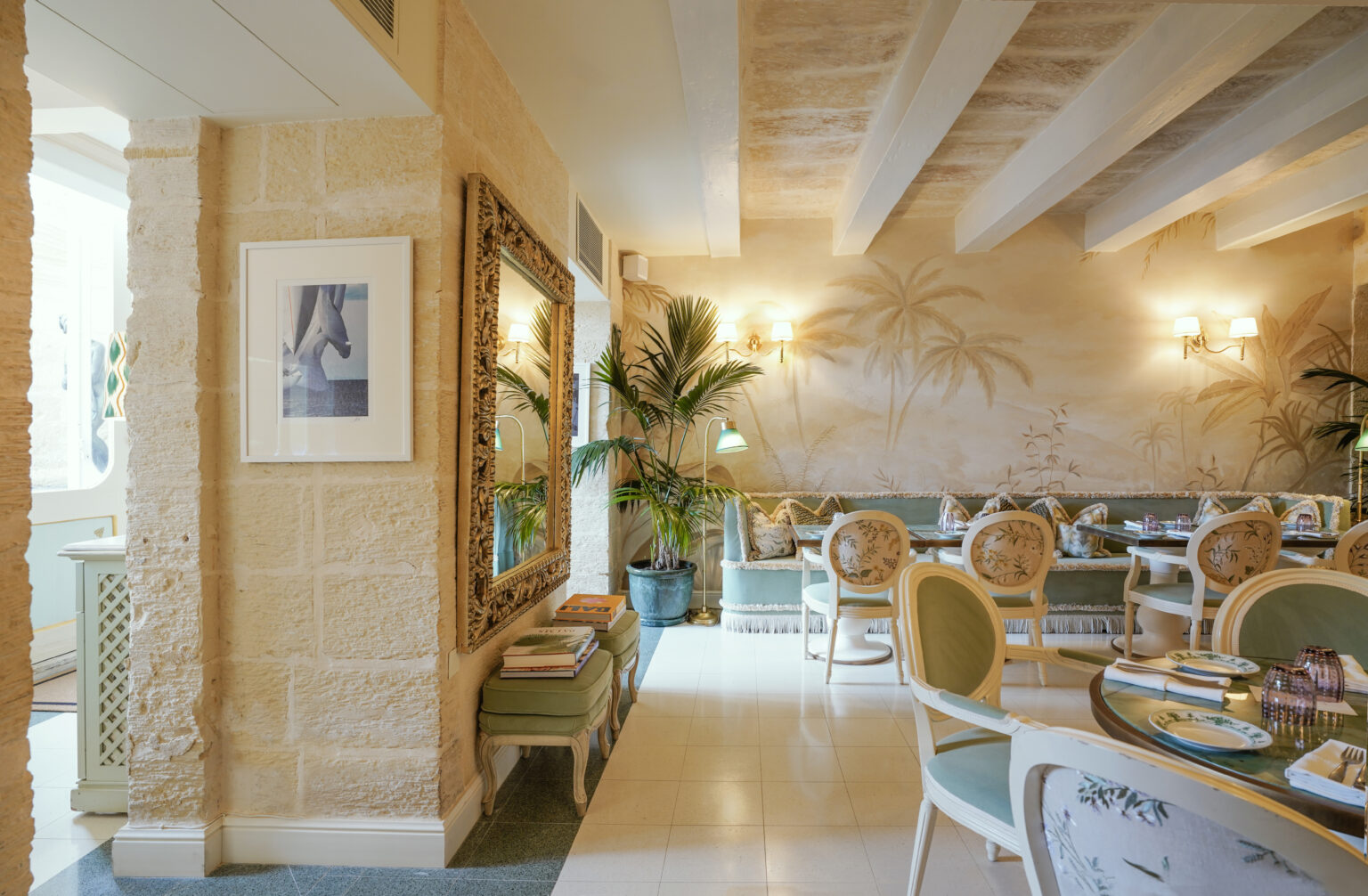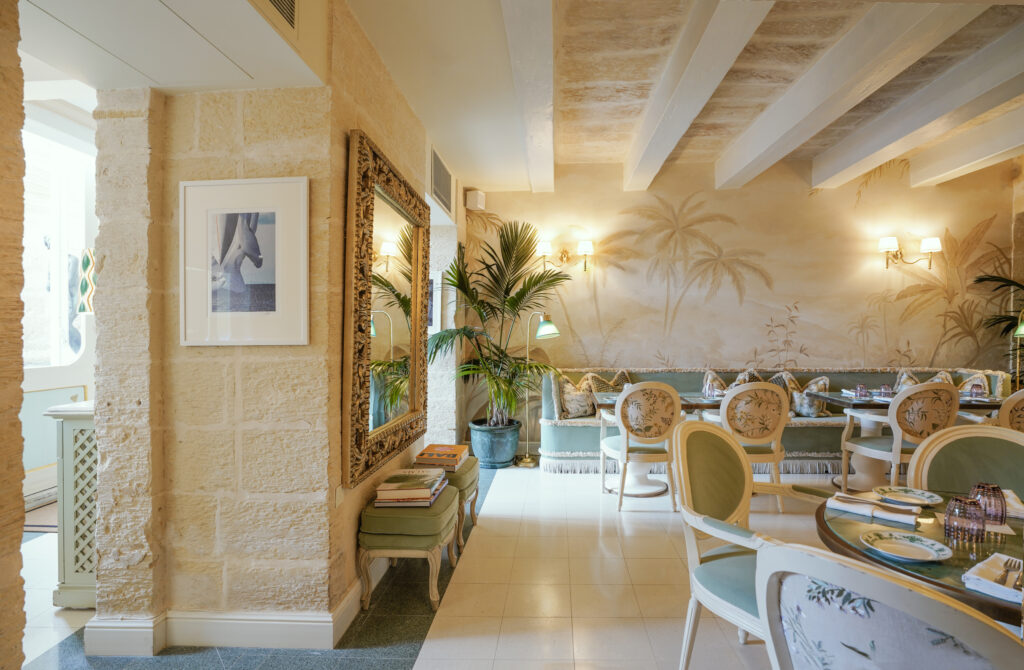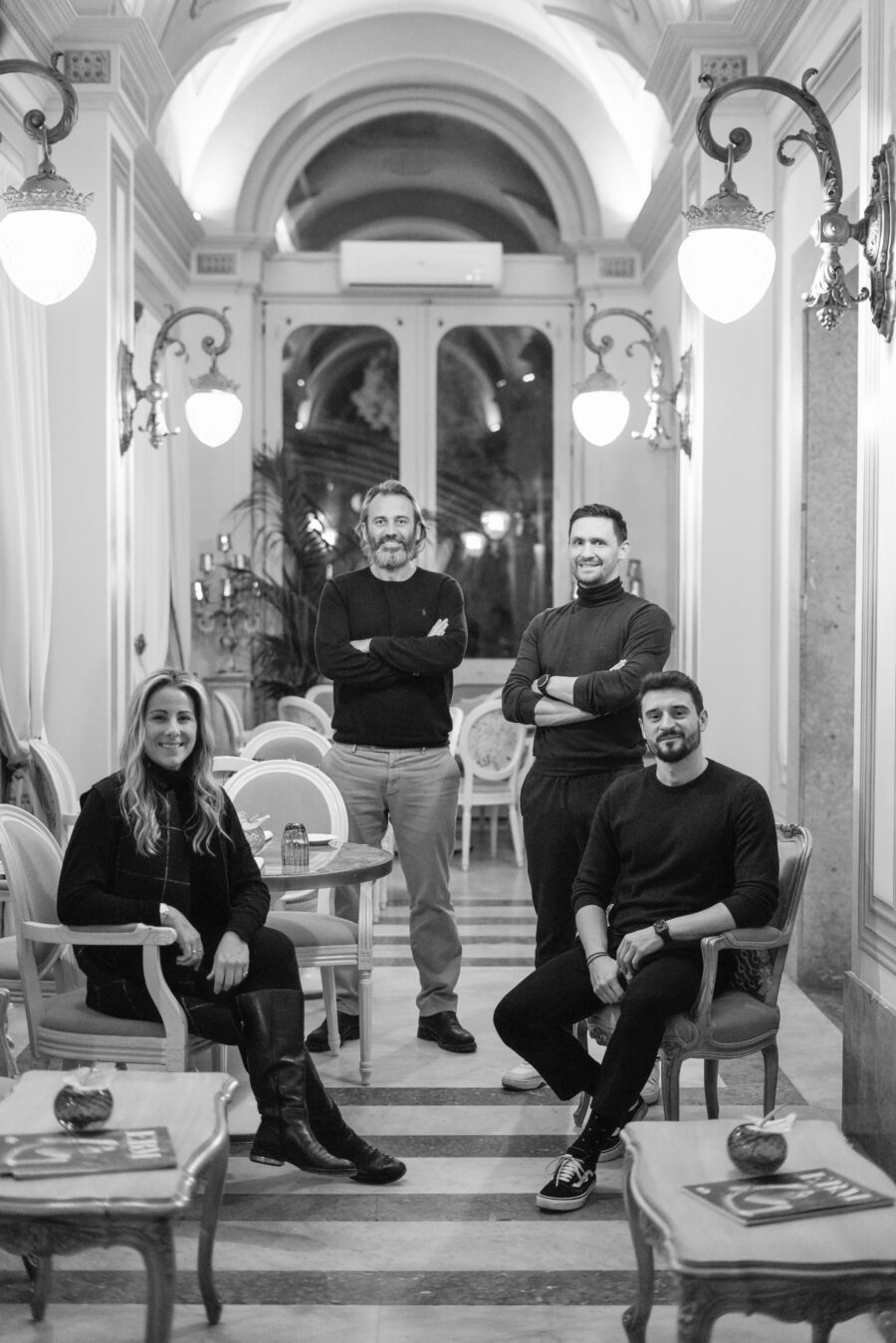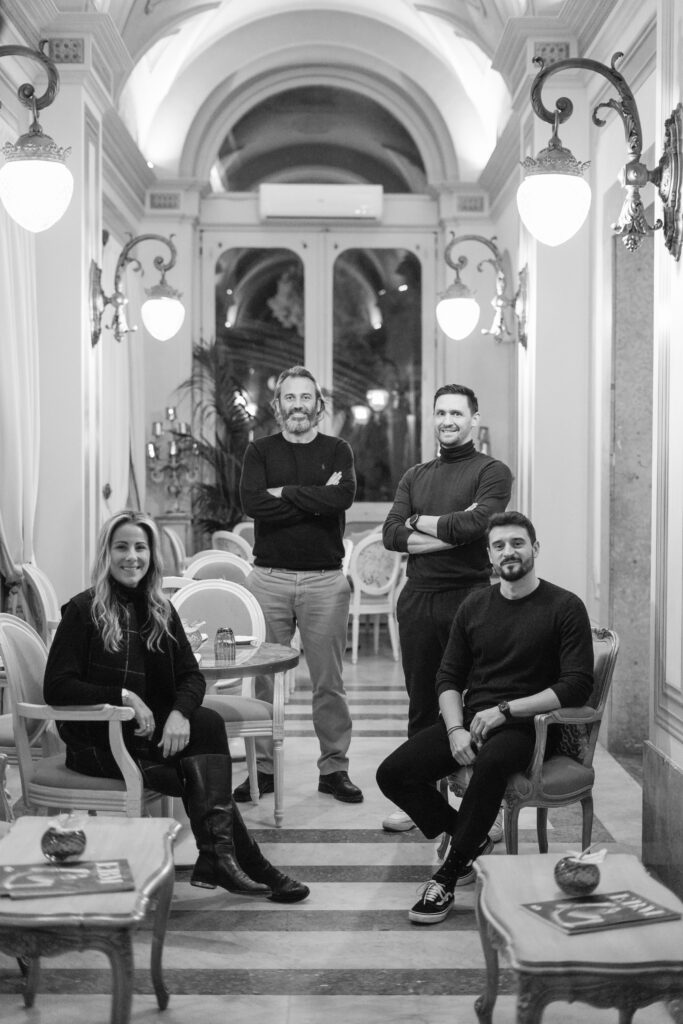 Justine had struggled to engage new faces, new craftsmen – mostly local – and had managed to get the baroness's stamp of approval. Then she had to proceed to execute her vision and ideas alone…
"In a sense, it feels like it has her blessing and I'm pretty sure she would be thrilled with it and love it," Justine says about her 'baby', the restaurant refurbishment.
Although always deeply involved, doing things her way is a new experience, which she relishes as she walks around Luna, pointing out the details of its interior design and the raison d'etre and anecdotes behind each finishing touch.
A new branding exercise had already been in the making, building on the botanical aspect of the palazzo and drawing on Mediterranean fruits and colours. And that set the tone for the restaurant's interiors, which were all about "bringing the gorgeous garden indoors".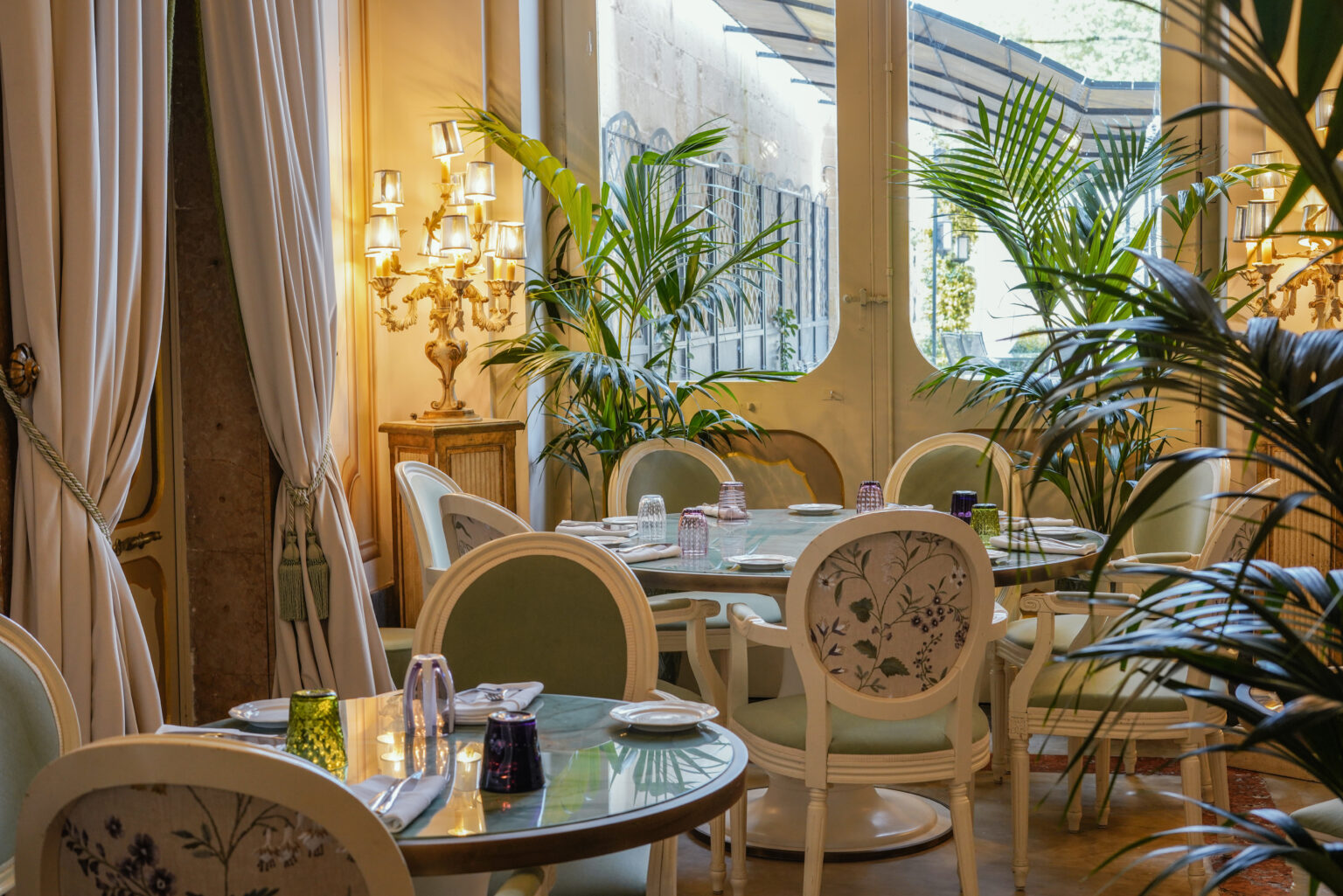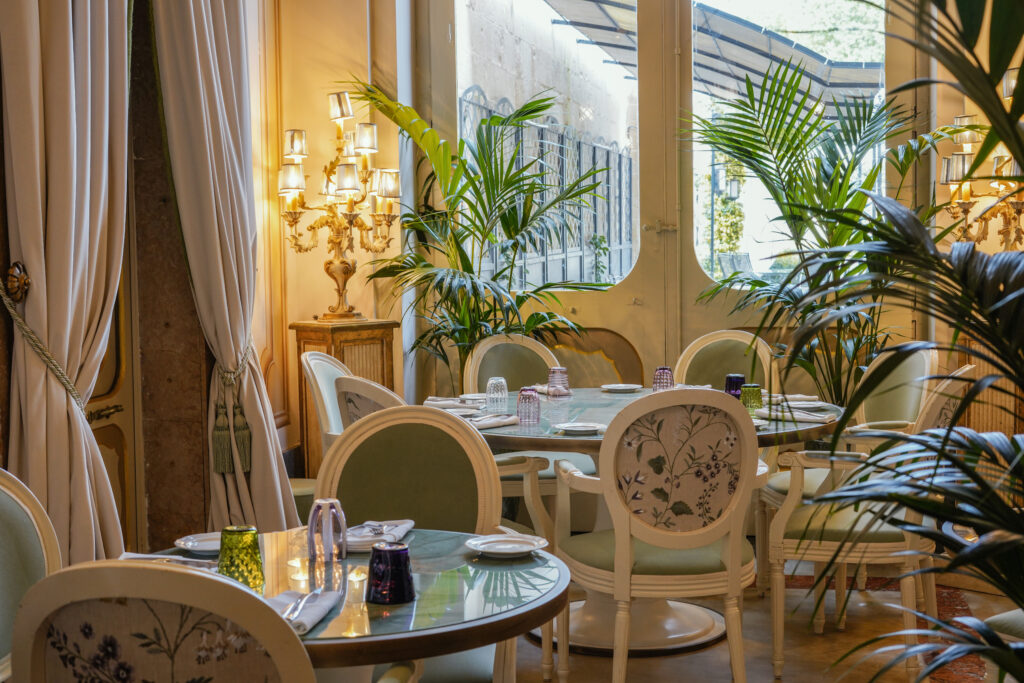 The palazzo's beautiful grounds – an oasis of tranquility in the heart of a busy town and an overbuilt and sprawling environment – are the key inspiration and the new branding hinged on that with its sage green colour, says Justine.
Building on this asset, the concept was to bring the chic refuge outside to the indoors… for a rainy day.
It is a mirror of Justine's own personal life, characterised by walks in the countryside and the importance of natural surroundings.
The colour scheme, she says, is calming and "feels like being immersed in nature".
For Justine, it was clear from the onset that "we just could not have an ultra-modern restaurant in this space".
And architect Antonio Girardi and his team, together with project manager Paul Cuschieri from Rebirth Studio, were "highly sensitive" to their surroundings, she points out.
So, the design, while fresh, respects and merges into the style of the magnificent palazzo, and this is probably best echoed in the murals on the restaurant walls.
They play a major role in the interior design, says Justine, "so glad we did not go for wallpaper".
Instead, as is evident throughout the restaurant, no corners were cut. The architect sketched the idea, based, of course, on vegetation, and the subtle and muted image was reproduced by two Florentine painters, retaining that 'old-fashioned' feel that ties in so well with the palazzo.
Celebrating local talent
Justine continued to set the mood by ensuring that Luna displays the work of local talent in every nook and cranny. This marks another important departure from the past, when everything was sourced from overseas, and is in keeping with Justine's firm belief in the Maltese art and crafts scene.
Proud of the local skills, Justine wants to use the palazzo to showcase these. And this is seen in everything – from the photography by Kurt Arrigo, Kris Micallef and Julia Boikova to artist Philippa Bianchi's hand-painted lampshades that feature local fauna.
The lush and verdant soft furnishings are by Interior Outfitters; the marble tables, in Emerald Green Quartzite, with brass trimmings, are custom-made; the chairs restored locally.
Justine made it a point to bring it all home, shedding the idea that anything worth its salt had to come from overseas.
The restaurant is imbued with a sense of elegance, a convergence of the classical and contemporary, and the sofa benches across the walls best encapsulate this idea with their "Parisian chic touch".
The look and feel have also spilled over into what was once a fashion boutique, which held such fond memories of fun holidays with her mother when they travelled to do the buys.
Justine has had to shed her sunhat to wear her business cap instead and close that chapter, turning the room into a fine private dining and meeting space.
A beacon for the arts
Every interior design element in the eatery has a story to tell; from the lamps designed by the architect himself; to an intricately ornate chandelier sourced from the Florentine company that created the original one in the restaurant and discovered to be still producing them today.
But the décor also tells the story of Justine herself, and an eclectic mix of personal pieces from her own and her late mother's home are talking pieces dispersed around the space, adding that homely and warm touch.
Justine points to Fornasetti candles – an abundance of which she had in her own house; while Assouline coffee-table travel books show Justine's favourite idyllic spots from Marrakesh to Province and Tuscany.
There is Villa Bologna pottery, which she is a fan of; while Roman busts bought from the Italian capital – also her roots – are placed on pedestals that belonged to her mother.
Justine has clearly thrown herself into the project – and the project has become an extension of herself as seen also in a gallery of family photos that also pay tribute to her ancestors, including the eccentric and artistic Marquis Joseph Scicluna.
About 150 old photos that were stacked away in boxes have been collected and are being framed to be hung around the restaurant, bringing back tender memories of the family members who left their mark on the palace. Now it is her turn.
Justine acknowledges that Palazzo Parisio also comes with an element of nostalgia for its older generation of clients, and many have a story to tell too.
That story will continue as every 'keeper' brings something else to the table, she says.
Justine is clear on her own direction: "I want to turn it into a beacon for the arts; we want to open our doors to culture, music and theatre."
Palazzo Parisio is not just a wedding venue and a restaurant, she says about unlocking its potential.
It is a cross between a private and public space, "a sanctuary in the midst of a big town, where you can even read a book in peace."
And she wants to capitalise on that asset as seen in the restaurant design.
But it does not stop there. Among her future plans, Justine will be moving out of the property, finally separating her work from her personal life and allowing herself the ability to cut off at the end of the day.
She will use the move to focus on an idea that has been brewing for years – to build the hospitality arm of the palazzo and finally create sought-after accommodation for wedding parties and guests in luxury suites.
Justine has big shoes to fill. The Baroness of Tabria, affectionately known as Muffy, was considered "the heart and soul of the Palazzo". She spearheaded the palazzo's renovation and transformation, turning it into an award-winning restaurant and a tourist attraction and was considered an icon of style and class.
But the apple never falls far from the tree. And the tree can continue to blossom.
"My touch? The idea is to better and embellish the palace; not change it," Justine says.
"My ethos for this place today is to create a space that people visit and leave feeling a little better than when they arrived…"
Palazzo Parisio is the venue of The Pink Fashion Show by Sicilia Outlet Village on May 31.